It was after the summer 2008 and the release of the Mamma Mia film that Skiathos island was put on the map for most people around the world. Part of the film was shot on Skiathos and the magnificent beauty of the island naturally made an impression to everyone. Until then the island was a hidden gem, known to relatively few, that attracted celebrities and VIPs. But Mamma Mia worked wonders for its reputation and defined it as one of the most romantic destinations in the world. Therefore it is no surprise that Skiathos weddings are on the rise!
Skiathos weddings can have many advantages and be the absolute destination weddings. Here are some of them…
A gorgeous venue
Skiathos has one of the most romantic wedding venues in Greece. The Bourtzi is a peninsula that separates the Skiathos port into two distinctive parts commanding spectacular views to the Skiathos town and the Aegean Sea. A Venetian fort from the 3rd century AD used to dominate the peninsula that is now in ruins. Pine trees cover the peninsula, while a beautiful cultural centre is attracting many visitors. Many destination weddings are held in this historical location.
Many more gorgeous venues
Skiathos has over 60 beaches that are rumoured for their beauty and crystal blue waters. Pine trees reach the sand and create an impressive landscape where blues and greens are the dominant colours. Hence, imagine a wedding ceremony on a beach of such beauty; a breathtaking experience for you and your guests. Other options include exquisite villas and 5-star hotels.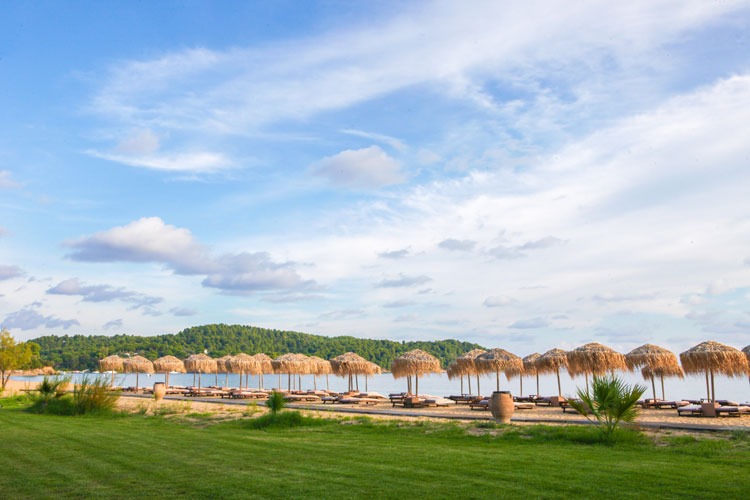 Skiathos weddings rock when it comes to partying
You have equally many options when it comes to celebrating you wedding with your guests. From  beachfront tavernas to elegant restaurants in town or hotels, you should rest assured that your celebration will be up to your standards and will perfectly complement your ceremony. So why not consider taking your guests to the party venue with a kaiki, a traditional Greek boat? It will add a Mamma Mia touch to your wedding and yours guests will thoroughly enjoy it.
The perfect holiday break
Skiathos is accessible by air and very popular with charter companies during the summer months. The island also offers many accommodation alternatives that will definitely cover the needs of your guests. As it is not a huge island, one can explore enough beaches in a few days. The town of Skiathos is very picturesque and pleasant to visit with its little stores and restaurants. All in all, Skiathos is not only the perfect wedding destination, it is the perfect vacation destination too.
What do you say? Are you ready for a Mamma Mia wedding?