Summer is well on its way and many happy couples are considering a romantic, dreamy beach wedding on a beautiful Greek island. They may dream of a small chapel on the beach or the perfect beach bar next to the sea or the beach with the most amazing sunset. Truth to be told, when you start thinking about it you come up with so many ideas, you just cannot stop. Organising a beach wedding is not so difficult, especially in a country like Greece with an endless coastline and countless islands. There are so many beach wedding ideas. You just need to decide which ones better match your style!
The feeling
The setting of a beach wedding is by definition light. You have to support this breezy feeling with all your choices – from your wedding dress to the art de la table. It does not mean that your wedding needs to have a boho look, but the ambience should carry the carefree feeling of the beach. As you are browsing for beach wedding ideas, always keep that in mind.
The elements
When the setting is so beautiful, decoration can be quite minimal. It is definitely easier to decide on the wedding theme. How "marine" you will go depends on your personal style. You probably don't want to exaggerate. If you are in a playful mood, you may go towards the direction of a "vacation" theme. Think of beach loungers, umbrellas, balls, sunglasses, flip-flops and plan how you can incorporate all these elements in the decoration, your wedding favours, the table decor. If you feel more romantic, put your emphasis on the natural elements. Think of seashells, sand, pebbles, sea stars and combine them to create a sea world for you and your guests.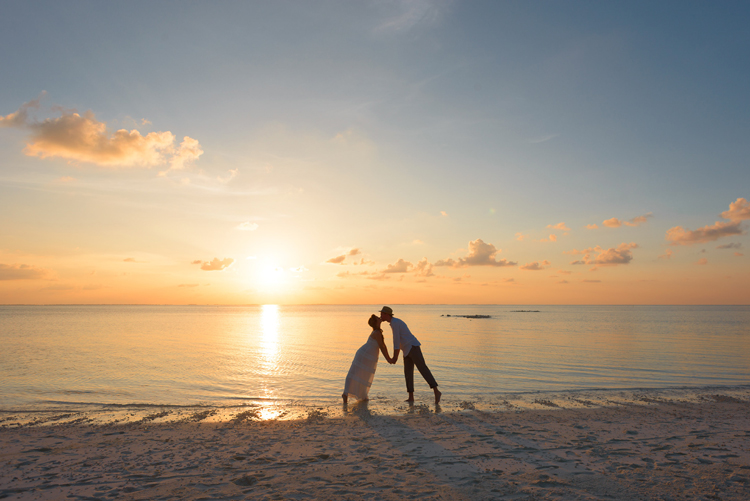 The challenges
A beach may be the most romantic place in the world, but it may present some challenges for your guests. Turn these challenges into opportunities to further develop your theme. For example, arrange for a wooden platform with brushes where your guests can dust off the sand from their feet. Or have a basket with flip-flops for guests that did not think through their shoe selection for the beach. Or have a table with sunglasses for those who forget their own.
The party
Bring the theme into your party. Discuss with your wedding DJ  ideas for the music. This magnificent background can become an inspiration for songs and music that will make this evening at the beach unforgettable for everyone!
So, are you ready to start planning the perfect beach wedding?